View cart
"Billet AR10 80% Lower Receiver" has been added to your cart.
Ghost Gunner 3
$2,100.00
LIMITED TIME: FREE SHIPPING
Ghost Gunner 3 is a general purpose CNC mill that gives you the ability to finish 80% receivers and frames with ease, in the comfort of your own home.  Ghost Gunner 3 is a complete redesign based on the successes of the GG2.  GG3 removes material 5 times faster than GG2 and the new unibody construction provides greater rigidity, drastically improving finished part quality.  Optical limit switches and pre-loaded, self-aligning ballscrews allow it to deliver advanced positional accuracy.  The custom spindle is powered by a specially designed closed-loop digital VFD, which sets a new standard in desktop CNC machining.
The machine accepts g-code from most CAM post-processors, and supports tool diameters up to 8 mm (~5/16").
Included with the GG3: A DD USB with all our latest software. ER-11 collet nut, 5/16″ allen wrench, 3mm ball-end allen wrench, 12mm wrench, 17mm wrench, 6′ USB A-B cable, 6′ three-prong power cable. Laptop not included. Shipping is a flat rate of $100 in the United States. The machine dimensions are: 270mm / 425mm / 380mm.
By placing this order, you reserve your unit in the next production run of machines with expected delivery in Q4 of 2021.
The option for deposits is being suspended temporarily.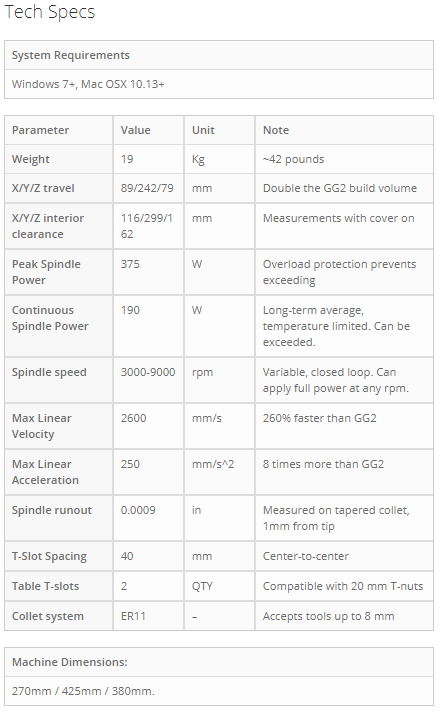 Available on backorder